Covering the period from 500 AD to 1300 AD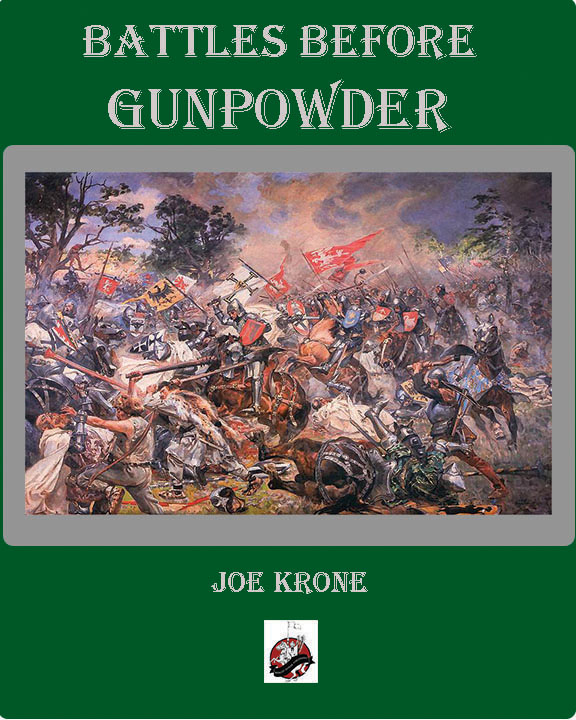 Battles Before Gunpowder
by Joe Krone
Paperback 978-0-990364-92-4 150pp $30.00
Thirty battles from Attila to the War of the Roses provide the reader a map of the battle, the details, the composition of the armies and bios of the commanders – all illustrated with miniatures soldiers.  A paperback book covering battles across Europe from Portugal to Russia by the author of Land of the Free.  A must for anyone interested in the medieval period.
Joe Krone is an avid historical enthusiast and brought his passion to the wargaming industry early in his career. He worked for Games Workshop as a promotions and marketing manager for over six years and spent five years managing events for Battlefront Miniatures. His experiences in both the science-fiction/fantasy and historical markets have given him a broad understanding of world events and there connection to tabletop wargaming. Joe has written several articles for White Dwarf magazine and Wargames Illustrated, contributed to the 3rd Edition Flames of War rulebook and authored Osprey Publishing's Land of the Free. Born in Hartford, Connecticut he now resides in Atlanta, Georgia working as a Director of Recruiting for an executive search firm.
Paperback 978-09903649-2-4 Ebook 978-1-945430-15-2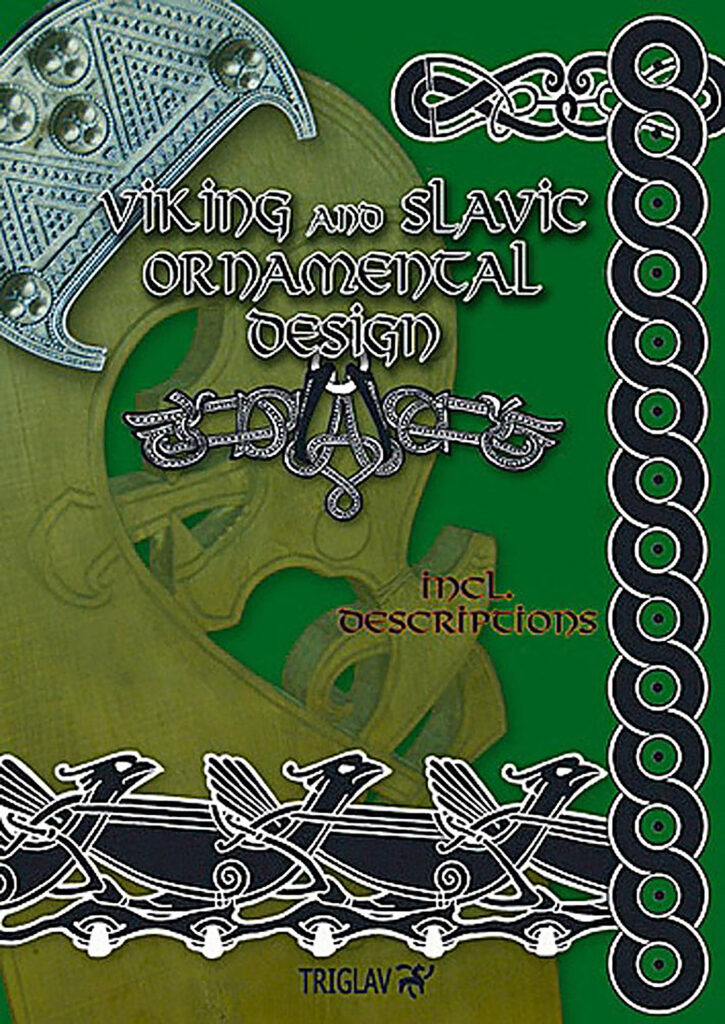 Viking and Slavic Ornamental Design, Volume 1
by Igor Gorewicz
An album of 343 authentic graphic designs in 2D. Collected mainly from the Viking Age, are not only sourced from Scandinavia, but also from Germany, Central Europe (eg Wolin) and Russia. They have been drawn from a vast selection of artifacts – hilts, crossguards, pottery, jewelry, manuscripts, bone and wood carvings etc. Each and every pattern has a date, origin, place it was found, and meaning, where possible.
All of the graphics presented in this catalog have a common denominator. All of them can be traced back to the Early Middle Ages (V-VI c.) Until the end of XII c. a fully functional entity, recognized as a property of the Middle Ages proper. During that time, a wide variety of ethnicities, culture, spread across Western Europe. Therefore, each designs represent a different cultural identity.
The catalog is intended for artists re-enactors and researches alike, people who are genuinely interested in old cultures, designers, digital artists, tattooists and people inspired by the Early Middle Ages. Slavic or Viking outfits, jewelry, furniture and leatherwork. This album would be of interest to historians or art historians, art students and anybody involved in the recognition of unfamiliar beauty and ancient aesthetics. This is an area of study that has long been neglected and unappreciated.
Paperback 978-1-945430-77-0 130 pp $15.00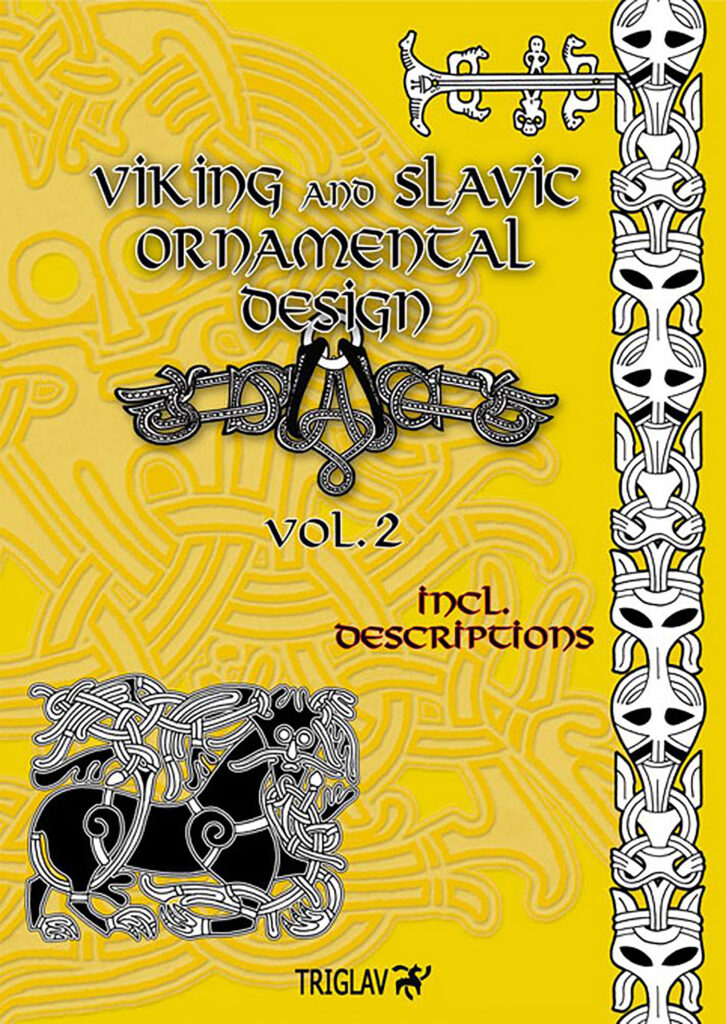 Viking and Slavic Ornamental Design, Volume 2
by Igor Gorewicz
This volume provides additional material for this graphic collection. Historic re-enactors and enthusiasts of the Viking Age in many countries. This volume presents 258 new, yet old designs.
Selection of patterns is similar to the first edition, but vol. 2. contains two thematic groups. The Boss and Bamberg reliquaries, which are justly considered masterpieces. This focuses on the Slavic and Northern-Germanic mythology of the Viking Age.
Paperback 978-1-945430-79-4 13000 $15.00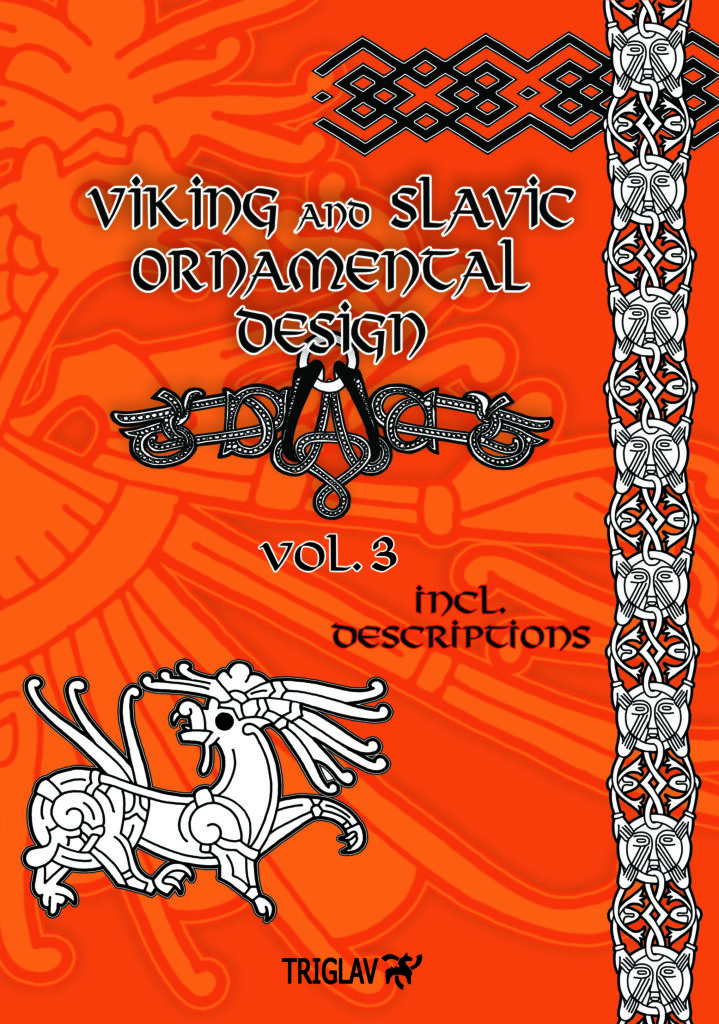 Viking and Slavic Ornamental Design, Volume 3
by Igor Gorewicz.
There In recent years, mass culture has started to focus of the Slavs. The growing importance of re-enactment for the history and archeology also played a role in this. Increased contact between East and West of Europe in various academic fields, including historical sciences, has given us a better understanding of this era.
This volume is based on three pillars – photos, new publications and the Internet. The author has constructed Volume III of the Viking and Slavic Ornamental Design with a new set of 266 or so ancient designs. The first group in the collection includes beautifully decorated wooden Viking objects. Many of these come from the Irish capital and the local ornamental style. The second group includes items from the Norwegian Museum of Cultural History in Oslo. Thematically, and you will find a large amount of ornamentation in the Borre style. This time, there is new material from the tombs in Mammen, the embroidered and woven patterns from Oseberg and the embroidery of Russia. Piquant, two very well-known weather vanes provided a certain amount of ornaments.
As always, this is present in two-dimensional graphics in black and white, allowing the broadest possibilities. The logic of the system has not changed, focusing on the concept of the style, dating or borne symbolism.
Paperback 978-1-945430-82-4 150pp $16.00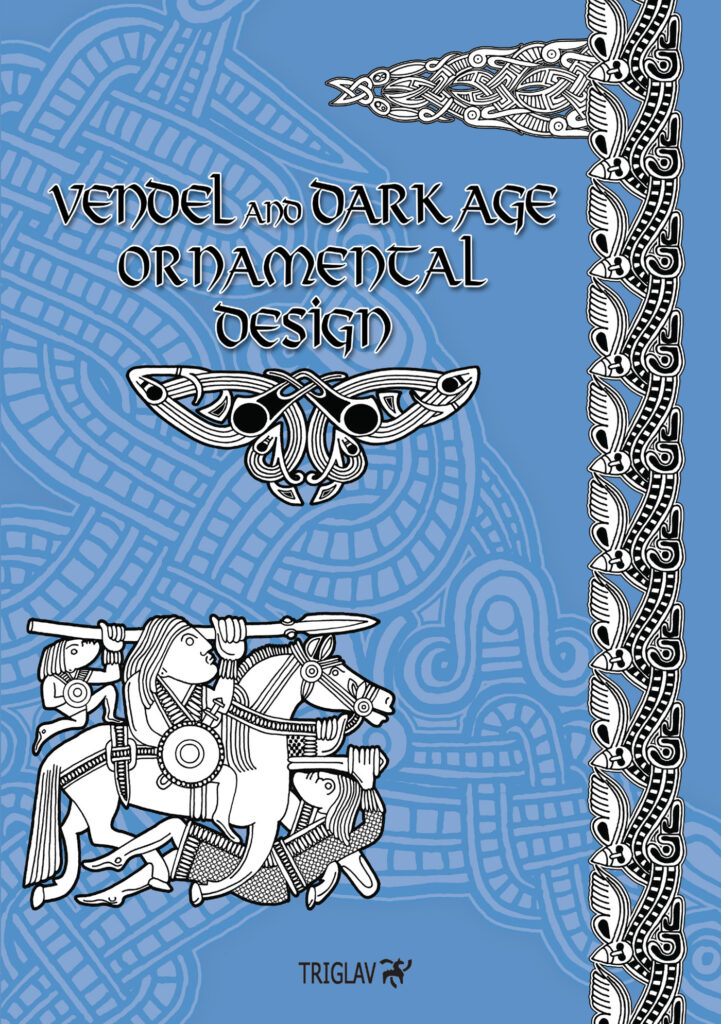 Vendel and Dark Age Ornamental Design
by Igor Gorewicz.
Continuing our codification of dark age ornamentation, this is a catalogue of 343 authentic graphic designs in 2D. Collected mainly from the Viking Age but in some cases later (C8th-C12th), they are sourced not only from Scandinavia, but also from Germany, Central Europe (eg. Wolin) and Russia. They've been drawn from a vast selection of artifacts – hilts, crossguards, pottery, jewellery, manuscripts, bone and wood carvings etc. Each and every pattern has an English description with its date, origin, place it was found, and meaning, where possible
Paperback 978-1-950423-48-4 150 pp. $16.00